Viktor Orbán will remain as Prime Minister of Hungary. The pro-Hungarian party Fidesz claims the election victory with no less than 54% of the vote and even a small seat gain.
Remarkably, there was an alliance of six parties (United for Hungary) against Orbán's party. The alliance is made up of parties of all political positions, from environmental left-wing parties to conservative right-wing parties. However, the conspiracy was to no avail and they obtained 30% of the vote.
Orbán, 58, addressed Fidesz's cheering crowd: "We got a big win. A victory so great that you might be able to see it from the moon and certainly from Brussels."
A sneer at the European Union, which has often criticized the much-discussed Hungarian, who is now starting his fifth term. The Székesfehérvár-born prime minister has been in power in Hungary since 2010. Before that, Orbán was also prime minister from 1998 to 2002.
Péter Márki-Zay, the opposition leader acknowledges the defeat: "I will not hide my disappointment, my sadness. We knew this was going to be an unfair playing field.", he responded after Orbán's victory speech. The 49-year-old economist and engineer doubts the democratic values ​​in his country. "We recognize that Fidesz received a large majority of the vote. But we still dispute that these elections were democratic and fair.", said Marki-Zay. His vision was to make Hungary more pro-Europe. This can be crossed out over the next four years.
Fidesz will rule together with KDNP (Christian Democratic People's Party Hungary). The party is seen by many as a sister party of Fidesz.
Table of seat distribution of the Hungarian Parliament.
Orange: Fidesz-KDNP (136)
Light Blue: United for Hungary (55)
Olive green: MHM (Our Homeland Movement) (7)
Dark Blue: Party of German Minorities in Hungary (1)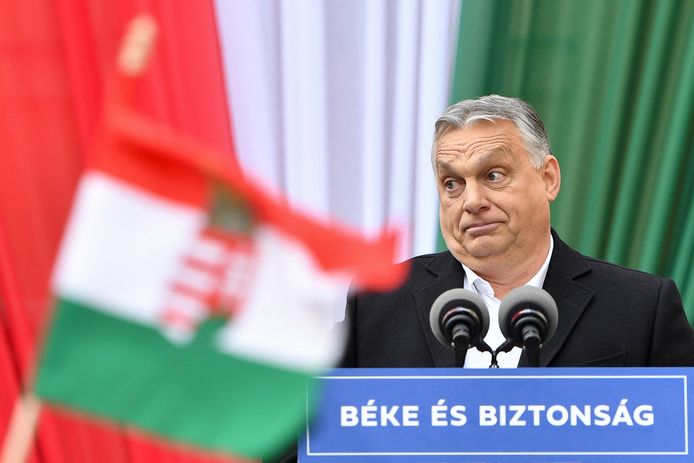 Watch this video. Tucker Carlson speaks to Victor Orban. DELICIOUS common sense from Orbán. the arch-conservative.